Which patio cleaning product do you need to get your patio ready for the summer? If your patio is looking a bit grubby and dull after the winter, now is the ideal time to give it the spring clean it deserves, before BBQ season begins! It will not be long before the good weather starts, and your outside entertaining will be all the more enjoyable if you get this job done now.
Rob Parker's Best have 2 products specially formulated for patio cleaning.
Rob Parker's Best Patio Cleaner
Rob Parker's Best Algae Remover and Patio Reviver
How do I know which is the best product to clean my patio with?
Each is designed to deal with a specific kind of deterioration of stone surfaces. Stoneworld can advise you which product will be best for you to use.
Rob Parker's Best Patio Cleaner is best for the treatment of general dirt, caused by weathering, and the detritus that accumulates over winter, causing dirty dull stone. It is also fantastic at removing black spot from all stone surfaces where it occurs. Black spot is a common problem with patios in the UK. We understand it at Stoneworld, and have developed this product to specifically deal with the problem, attacking it on two fronts. The formulation will kill the spores and hyphae trapped in the stone, but also bleach the dead parts that have become embedded in the surface of the stone. This will initially improve the appearance of your patio by lightening them, but once dead, these particles will gradually loosen and over time you will be able to power wash them away. The biocide in the formulation will kill the root cause of the problem, preventing the regrowth.
We have a blog post specifically about removing black spot, if you require any more information. Read more here.
Rob Parker's Best Algae Remover and Patio Reviver is best at removing the green algae deposits that are typically found on stone and other surfaces after the damp, wet and shady conditions that prevail in a UK winter. If you get into the habit of using this product to remove green algae as part of your seasonal gardening calendar, your patio will always be BBQ ready when you need it!
One application of Rob Parker's Best Algae and Patio Reviver in the spring or autumn, will kill and remove any green algae, revealing the original beauty of the stone. You just need to apply the product, and leave it to do the rest. The product works gradually. Over a period of days you will see daily improvement in the stone surface. The formulation works in conjunction with atmospheric conditions (sun, rain and air temperature) giving ongoing protection against further build-up of green algae throughout the season.
The handy size formulation that we supply this product in means you have what you need for one season's treatment. (One bottle will treat an average size patio, sprayed neat via a low-pressure handheld sprayer) No excess to store, no excess packaging used!
See how this patio comes back to life over a period of 7 days: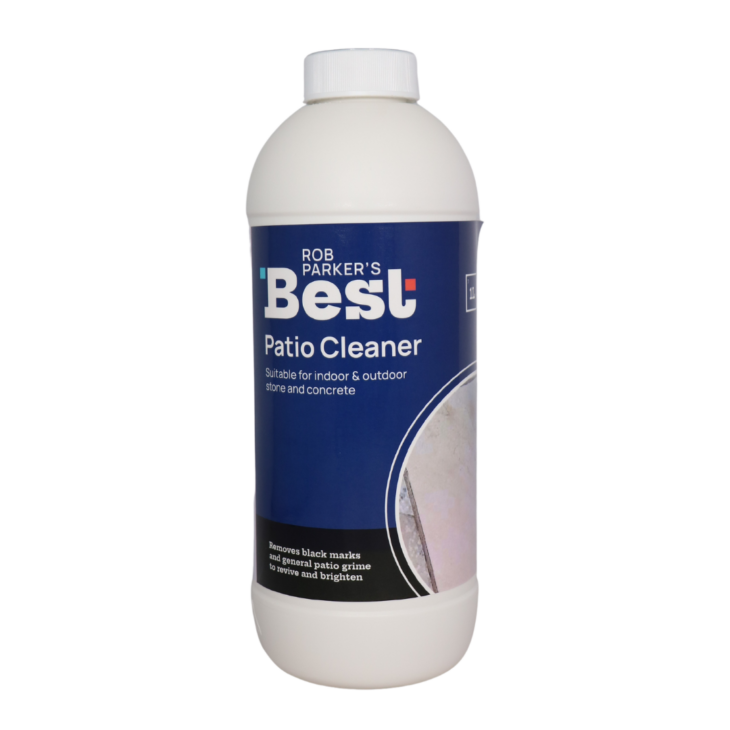 Buy Patio Cleaner
1 litre: £21.00 | 5 litre: £94.80