Over 20 years of stone experience
Free delivery on all
5 litre bottles
Developed with chemists to find the best stone solutions
Algae Remover and Patio Reviver
Use Rob Parker's Best Algae Remover and Patio Reviver to remove green algae from your pathways and patios.
250ml: £12.96
VAT is included in this price
Product description
Algae, be gone! Rob Parker's Best Algae Remover and Patio Reviver can be used to remove that pesky green algae from your stone patios and pathways.
A once-a-year treatment that will clean and protect most outdoor surfaces. Our formulation is a powerful biocide which is fast acting and long-lasting. Once applied you will see a difference after 2-4 days and it will keep on working for up to 12 months. The handy 250ml application can be diluted in 8 litres of water or amended depending on the surface it is being applied to and the amount of growth.  Sufficient to treat 25 sqm.
Product instructions
Clear debris from site to be treated.
Dilute contents of bottle (250ml) in 8 litres of water (amended depending on surface it is being applied to and the amount of growth) and apply with a low pressure spray.
Saturate surface, and then leave to dry.  That's it!  Let the product do the work.
Do not apply in damp/wet conditions or if rain is forecast within 4 hours of application.
Please see data sheet for full information on product.
Product Safety – This product is subject to certain Health and Safety precautions (please refer to MSDS for the full details).
Yes, it will work on porcelain paving.
Yes, the product will work.
Keep pets away from the product whilst you are using it. Once the product is dry, it is safe for pets to walk on. See our advice article for more information on using this product around pets.
Rob Parker's Best products are delivered throughout the UK using a trusted courier network.
Delivery time is usually 3-7 business days.
Whilst we will always endeavour to achieve delivery within 3-7 days, please accept that delays may occur and 10 business days must elapse before we can investigate late/lost parcels.
For some postcodes we need to make additional arrangements for delivery in order to comply with H&S restrictions for carriage. This incurs extra cost.
Please contact us for P&P rates to Scotland, Northern Ireland, Isle of Wight, Channel Islands.
Tel 01844 279274 for advice. Email sales@robparkersbest.co.uk
Algae Remover 
& Patio Reviver
"We can highly recommend Rob Parker's Best Algae Remover & Patio Reviver. We regularly use it to keep our stone work around the garden clean and free of green algae. We have also found it to be fantastic to use on our teak boat."
Algae Remover; Great product that actually lives up to its marketing!
"I work for a Livery Hall in London. We have a SERIOUS issue with algae on our yorkstone courtyard. Not anymore we don't. I'll be reordering a larger batch very soon. The small test area we used the algae inhibitor on is just a revalation! The best product I've used commercially!"
Algae Remover; Excellent product
"Excellent product, I applied the Algae remover as instructed and all Algae had been removed after 3 / 4 days; I intend to use this at least once a year going forward as it us the best cleaning fluid I have used so far - recommended."
Other products in the range
Patio Cleaner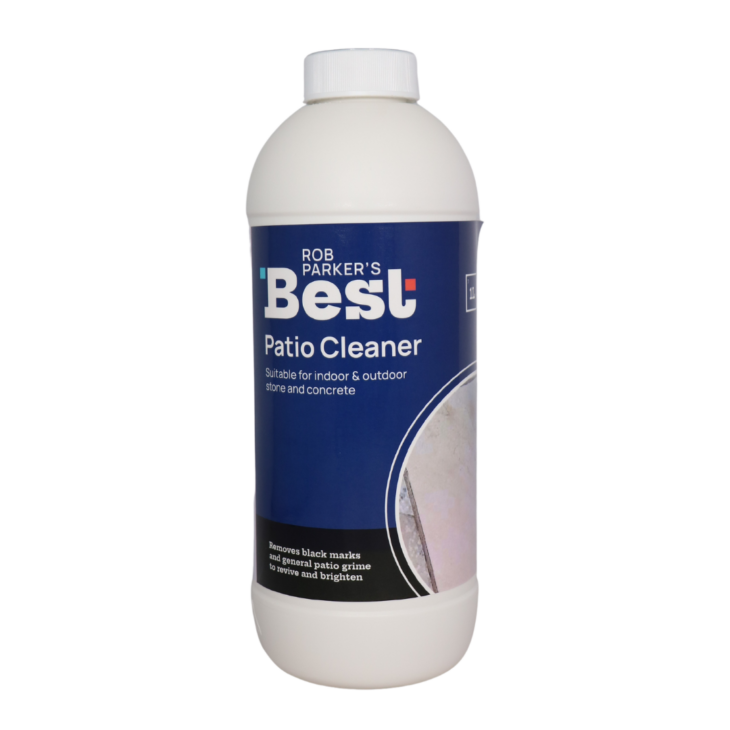 The premier cleaner for outdoor stone and concrete surfaces.
1 litre: £21.00
5 litre: £94.80
VAT is included in this price
Colour Enhancing Sealer
Colour Enhancing Sealer specially formulated to prevent porous surfaces against staining from water/oil based dirt and other grime, whilst enhancing the surface colour of natural stone.
1 litre: £42.00
5 litre: £210.00
VAT is included in this price
Rust Stain Remover
Treatment specially formulated to remove any rust stain.
1 litre: £31.80
5 litre: £156.00
VAT is included in this price