Over 20 years of stone experience
Free delivery on all
5 litre bottles
Developed with chemists to find the best stone solutions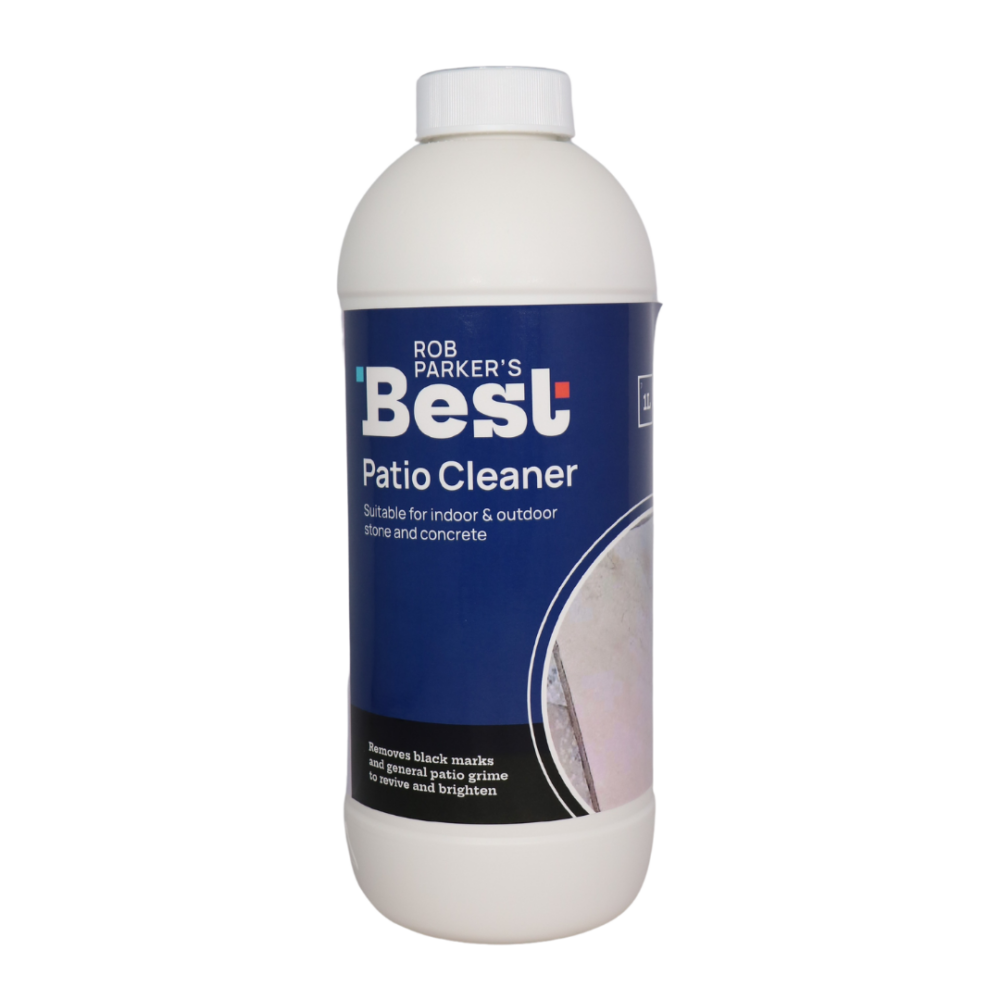 Patio Cleaner
The premier cleaner for outdoor stone and concrete surfaces.
1 litre: £21.00
5 litre: £94.80
VAT is included in this price
Product description
Removes and cleans natural contamination like Black Spot.
The best patio cleaner for removing the dreaded black spot. For use on all types of outdoor stone (limestone, sandstone, slate and granite) and concrete including paving slabs, paths and block paving.
Rob Parkers Best Patio Cleaner will clean:
general dirt and grime including greasy stains
patio black spots and marks
organic and microbiological growth such as algae, moss and lichens
Coverage: 1 litre of product will cover 5-10 sqm depending on the severity of the problem.
Easy to use and gives lasting results.
Suitable for all outdoor stone and concrete surfaces.
Especially effective against patio black spots and other microbiological soiling
Product instructions
For best results we recommend:
Remove as much loose dirt as possible from the surface being cleaned.
Carry out a test on a small area to determine the amount of time required for the cleaner to take effect. The effectiveness will vary depending on the level of dirt and grime on the surface being treated.
Apply the cleaner directly to the surface being treated using a low-pressure sprayer or brush directly onto the surface.
Apply at a rate of 3-5 sq. meters per litre. Do not dilute or mix the product with any other substance.
Ensure the surface is saturated with the cleaner and leave for 10-60 minutes.
The black spot will now be dead but still adhered to the treated surface.
To remove, rinse with water using a stiff bristle brush.
Data sheets can be found here
Once cleaned, the Black Spot is no longer alive. Pressure washing will then gradually remove the black staining left behind. This can take several washed to remove if the staining is deep-rooted.
In our experience, the patio cleaner has never affected an artificial grass, however they can be made from many different materials and we have not tested on every material on the market. For this reason, we would always advise caution and doing a test area to avoid any disappointment.
When rinsing, the run-off should be diluted enough not to cause problems to plants in adjacent beds. However, we advise that all washed debris either be collected or goes directly into waste drains.
Rob Parker's Best products are delivered throughout the UK using a trusted courier network.
Delivery time is usually 3-7 business days.
Whilst we will always endeavour to achieve delivery within 3-7 days, please accept that delays may occur and 10 business days must elapse before we can investigate late/lost parcels.
For some postcodes we need to make additional arrangements for delivery in order to comply with H&S restrictions for carriage. This incurs extra cost.
Please contact us for P&P rates to Scotland, Northern Ireland, Isle of Wight, Channel Islands.
Tel 01844 279274 for advice. Email sales@robparkersbest.co.uk
Algae Remover and Patio Cleaner; Excellent service
"Excellent service - arrived very promptly despite the lockdown. Last year I bought the Algae remover which was very effective, and this year the Patio Cleaner. Will definitely continue to use them."
Patio Cleaner; This product really works
"This product really works. My 18 year old sandstone patio looks like new."
Patio Cleaner
"Order quick and simple, delivery great. Communication very good.. thank you Rob Parker would buy from this company again."
Other products in the range
Algae Remover and Patio Reviver
Use Rob Parker's Best Algae Remover and Patio Reviver to remove green algae from your pathways and patios.
VAT is included in this price
Patio Sealer
Protects any porous or permeable surface by providing a protective repellent layer to stop staining from water or oil based dirt and other grime.
1 litre: £42.00
5 litre: £210.00
VAT is included in this price
Colour Enhancing Sealer
Colour Enhancing Sealer specially formulated to prevent porous surfaces against staining from water/oil based dirt and other grime, whilst enhancing the surface colour of natural stone.
1 litre: £42.00
5 litre: £210.00
VAT is included in this price