Over 20 years of stone experience
Free delivery on all
5 litre bottles
Developed with chemists to find the best stone solutions
Salt Neutraliser
Looking for an effective product to remove efflorescence from paving or brickwork? Rob Parker's Best Salt Neutraliser is the answer!
1 litre: £30.00
VAT is included in this price
Product description
Our Salt Neutraliser can be used on brickwork and paving to remove efflorescence. It removes white deposits on brickwork. Paving caused by evaporation of salts can be also removed with this product. Use neat or diluted up to 1:10. Available in 1 kg tub.
Product instructions
Coverage for 1 litre: 4 to 10m sq. meters
For best results we recommend:
First try the product on a small test area to ensure desired results are achieved.
Shake bottle well before use.
Dilute with water as appropriate. Add water as follows depending on degree of contamination – 1:1 heavy, 1:5 medium and 1:10 light.
Apply product with a brush or sprayer.
Allow the product to act for 5 to 30 minutes (time required depending on thickness of material deposits being removed).
Thoroughly rinse the surface with water. be careful to mask off and protect surfaces that are not intended to be treated.
Clean tools and equipment immediately after use.
Once cleaned, it is recommended that surfaces are protected with RPB Patio Sealer.
Rob Parker's Best products are delivered throughout the UK using a trusted courier network.
Delivery time is usually 3-7 business days.
Whilst we will always endeavour to achieve delivery within 3-7 days, please accept that delays may occur and 10 business days must elapse before we can investigate late/lost parcels.
For some postcodes we need to make additional arrangements for delivery in order to comply with H&S restrictions for carriage. This incurs extra cost.
Please contact us for P&P rates to Scotland, Northern Ireland, Isle of Wight, Channel Islands.
Tel 01844 279274 for advice. Email sales@robparkersbest.co.uk
Other products in the range
Algae Remover and Patio Reviver
Use Rob Parker's Best Algae Remover and Patio Reviver to remove green algae from your pathways and patios.
VAT is included in this price
Patio Cleaner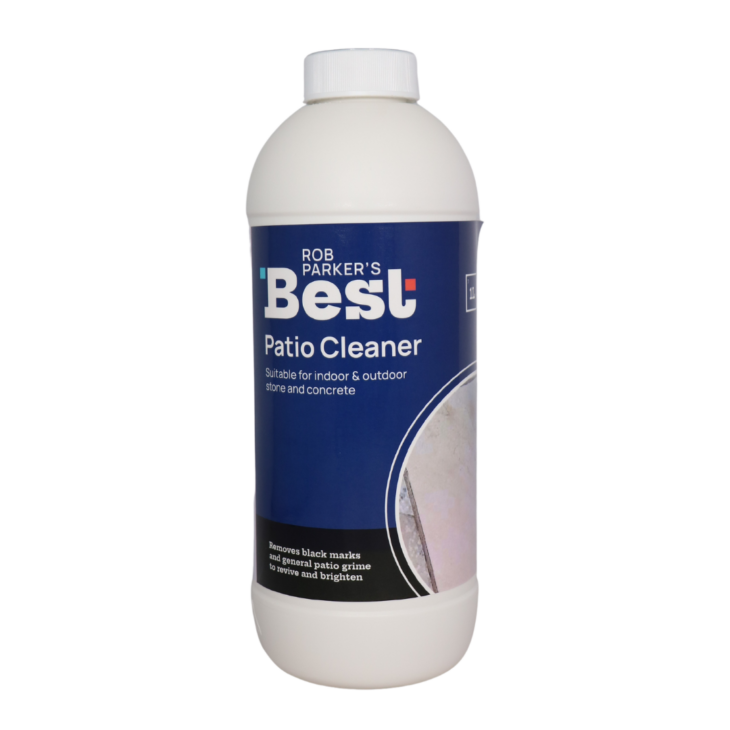 The premier cleaner for outdoor stone and concrete surfaces.
1 litre: £21.00
5 litre: £94.80
VAT is included in this price